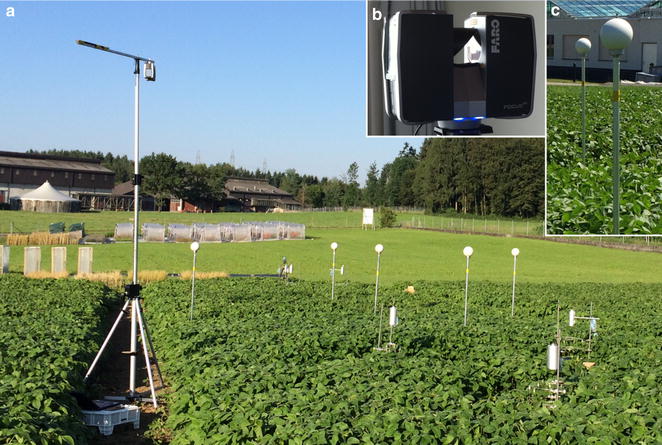 Source : Friedli et al., 2016
Un article d'une équipe de chercheurs de l'Institute of Agricultural Sciences (Zürich) qui a testé l'utilisation d'un laser terrestre à balayage à poste fixe pour suivre le déroulement d'un essai au champ (essai de phénotypage). L'article met en avant l'intérêt de cette approche pour mesurer la croissance (hauteur) du couvert du maïs, du soja et du blé. Il met également en avant la possibilité d'utiliser la haute résolution (spatiale et temporelle) des données pour (1) identifier les différences d'architecture qui existent entre plusieurs génotypes; (2) mesurer de manière dynamique de la croissance des couverts tout au long de la saison et (3) les fluctuations de la croissance à court terme (dans les 24 h), ce qui pourrait par exemple être le signe de réponses à des fluctuations rapides des conditions environnementales. Cette expérimentation a été réalisée avec un scanner laser 3D du commerce.
Article disponible en ligne à l'adresse suivante : http://www.ncbi.nlm.nih.gov/pubmed/26834822
Friedli, M., Kirchgessner, N., Grieder, C., Liebisch, F., Mannale, M., & Walter, A. (2016). Terrestrial 3D laser scanning to track the increase in canopy height of both monocot and dicot crop species under field conditions. Plant Methods,12(1), 1.